Recently we made a test to check the speed of our product My IP Hide. It's an encrypted proxy service to hide IP and unblock websites. In theory, it should be much faster than its main competitor, VPN. How was its performance in reality? Let's see.
Speed Comparison
Since the test report is long, we put the result on the top. Here is a chart to show the speed of the VPN protocols and My IP Hide.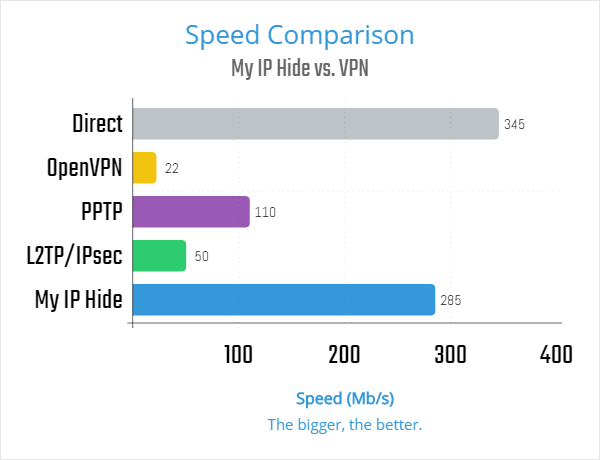 From that graph, we can see that My IP Hide achieved 83% (285Mb/s) of the maximum speed (345Mb/s, direct connection, no proxy, no VPN), while OpenVPN only retained 6% (22Mb/s). Since OpenVPN is the VPN industry standard protocol, we can conclude that My IP Hide is 13 times faster than VPN.
Direct Connection 345Mb/s
The test computer was in Los Angeles with high-speed network access. We checked the speed of its direct connection (no proxy, no VPN), which is the maximum speed of its network.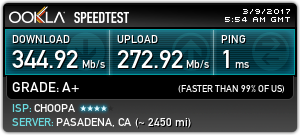 Since ordinary users do not upload files frequently, we will focus on the download speed. It was 345Mb/s. It means 345 million bits per second. Since one Byte equals to 8 bits, the download speed in Chrome should be 345/8 = 43MB/s in theory. However, there was some loss in reality.

Since the download speed in Chrome was unstable, we only tested the connection speed by speedtest.net in the following test. To be fair, we used the servers in Los Angeles for both VPN and My IP Hide.
OpenVPN 22Mb/s
OpenVPN is the most frequently used VPN protocol. Most VPN vendors recommend it and use it as the default protocol. It has two versions, a 256-bit version, and a 160-bit one. We check the 256-bit version first as it is used more often.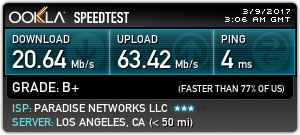 We tested it twice. The first result is 20Mb/s. The second one is 21Mb/s, close to the first one. It was a dramatic decline in speed. We weren't surprised because the VPN used a strongly encrypted connection. It is the expense of security.
Then we tested the 160-bit encrypted OpenVPN. Its encryption is a little weaker than its 256-bit brother.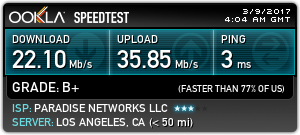 Its speed was only a little faster than the 256-bit encrypted OpenVPN protocol. However, it was only 20.26Mb/s in the second test. There was little difference in speed between them.
PPTP 110Mb/s, L2TP 50Mb/s
Then we tested the PPTP protocol with 128-bit encryption. It used to be popular on Windows. Its speed was faster than OpenVPN. In fact, it was the fastest among all the VPN protocols.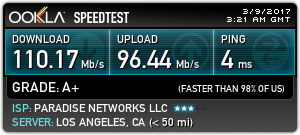 In the second test, PPTP got a result of 104Mb/s, close to the first one. Then we tested the last VPN protocol, L2TP/IPsec with 256-bit encryption. Just like PPTP, most desktop and mobile devices natively support it.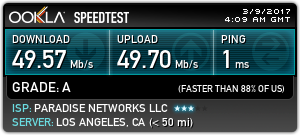 In the second test, L2TP/IPsec got a result of 47.38Mb/s, close to the first one. Its speed was between the OpenVPN and PPTP protocol. It was because its encryption strength is between them too.
My IP Hide 285Mb/s
My IP Hide has many IP addresses (servers) in the United States. It automatically tested all of them and sorted them by speed. The servers in Los Angeles were on the top of the list, as we expected.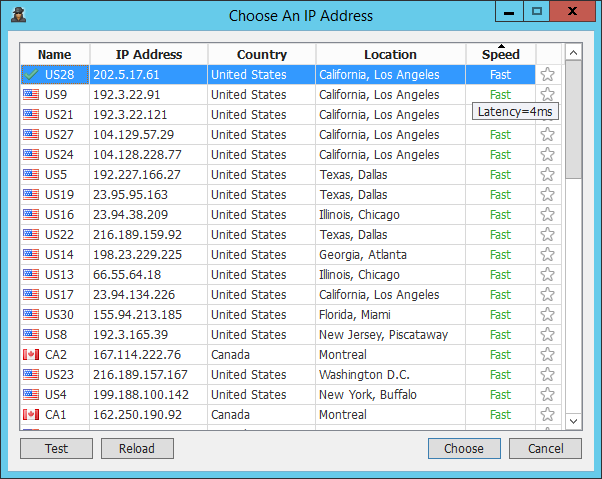 We tested two of them. The faster one US28 had the speed of 285Mb/s. It was the 2.5 times of PPTP, 5.7 times of L2TP/IPsec, and 13 times of OpenVPN, the VPN industry standard protocol.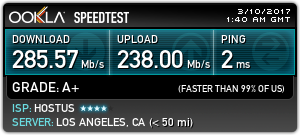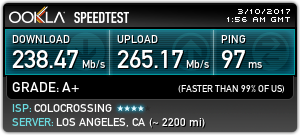 The slower LA server US17 had a speed of 238Mb/s, not bad. Just for the curiosity, we tested two Dallas servers.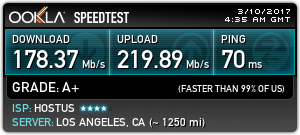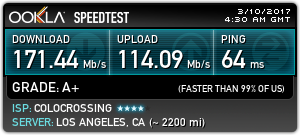 Their speeds were above 170Mb/s. It was pretty good, considering that Dallas is 1240 miles away from Los Angeles.
Conclusion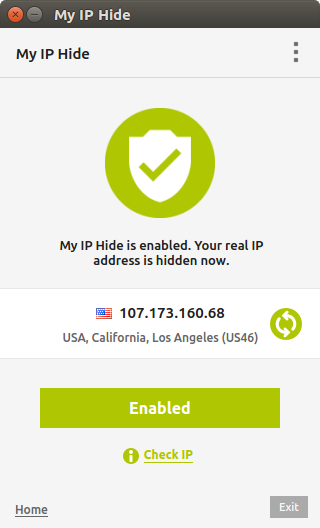 My IP Hide is 13 times faster than VPN. It's a better solution for a majority of people because it provides a great balance between browsing speed and security.