We released My IP Hide 1.29 on Jun 27, 2019. It supports Windows, Mac, Android, and Linux. Please download and try it. We suggest all users updating to the latest version.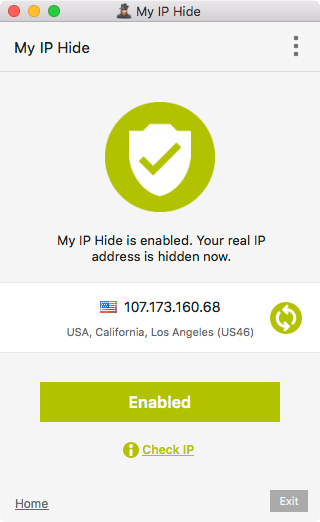 What's New in Version 1.29
Avoid disconnect after the user's IP address changed.
Fix the display problem on the 4K screens.
Improve the "Refresh" button on the "Account" tab.
Fix that sometimes it doesn't show the error messages.
Ask for reloading the IP list every week.
Fix that it cannot log in the customer area directly.
Fix the jam of the interface after changing the IP address.
Not Disconnect Again
In the old version, MyIPHide servers use the users' IP address to identify them (IP Authentication). When your IP address is changed, the program needs your new IP address to identify you. Thus it will disconnect and activate itself. Then it will connect again. It usually takes about 15 seconds to finish the whole process.
In the new version, MyIPHide servers use the usernames and passwords to identify its users (Password Authentication). As long as you don't change your password, MyIPHide can always identify you even after your IP address changes.
Change for Mobile
When you use the Mobile/Cellular data network (3G/4G/5G), your IP address changes from time to time. In the old version, it will cause MyIPHide to disconnect and activate itself. Thus we usually suggest our users using the Wi-Fi connection whenever it's available.
In the new version, MyIPHide won't disconnect even after you change to another network. Our mobile users won't see the "IP Changed" error message again.
The Future Changes
To be compatible with the old version, we retained the IP authentication function. However, we may remove it in the future version. Then the old version will have a problem connecting to the MyIPHide servers. Thus we suggest all our users upgrading to the new version as soon as possible.