We released My IP Hide on May 31, 2012. It includes many improvements. We recommend all users updating to the latest version. It includes these changes.
User can use the OK button to activate the service
Fix that there is no information for the new IP after first activation
Automatically signup a trial account if users didn't register
Fix the wrong username and password by removing the space from them
Now the trial users can change their IP
Fix that it has no active proxy if the user doesn't test the speed after activation
Check whether the license expires at start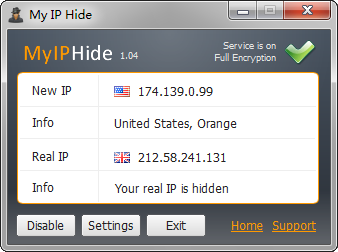 My IP Hide Introduction
My IP Hide is the client-end software of our encrypted proxy service. It can help you to unblock websites and protect your Internet privacy privacy.
Unblock websites: In some companies or countries (ex. China, Egypt and Iran) the management blocks some websites (ex. facebook and youtube). My IP Hide can unblock the sites. It uses encrypted connections to bypass the firewall as well as content filtering system while ordinary proxy can only bypass IP/domain block.
Internet privacy: Websites know much information through your IP address. For example, from your IP we know your country. My IP Hide can hide your IP to protect your Internet privacy.